In 1987 came the breakthrough which in retrospect can be said to be the start of today's major interest for home theater and multichannel sound.
This year, the first processor with active logic, the same system as Dolby Stereo film sound - processors using. Therefore, this processor called Dolby Pro Logic. This processor can share the stereo signal into four channels: left, right, center and surround. Just as the sound you know from cinema. Dolby Pro Logic surround sound is the overwhelmingly most used technique for surround sound. Indeed until 1992 there were no other techniques, when the first film with Dolby Digital came on the market.
Dolby Pro Logic (Dolby Surround) audio is available from any stereo sources such as VCRs, laser disc players, DVD players, satellite systems, CD - players and multimedia equipment. Dolby Pro Logic is the only surround system transmitted with analog TV broadcasts.
The technique behind Dolby Surround - sound is that encodes four audio channels into the two normal stereo signals.
Should we then get rendered multichannel - the sound must have a Dolby Pro Logic processor, which decodes the sound again to 4 channels. In Dolby Pro Logic system distributed sound like this: p>
For the center speaker is right, and what is happening in the scene. To the right and left front channel is sound to what is happening on the side of the image, and bass, and behind - the speaker goes a mono channel for reproducing ambient - sound, and sound effects. Frequency hallway to the rear - the channels are in addition somewhat limited. Frequency hallway is from about 150Hz to 7-8000 kHz. P>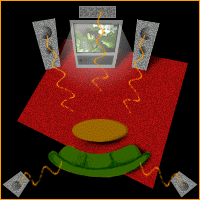 p>
Pretty much all the movies from the mid - 1980s is encoded with Dolby surround sound. Today it is generally used a Digital Surround format in addition to achieve discrete 5.1 or 7.1 audio.
details

 
Dolby Pro Logic II
In 2000 launched a new Dolby upgraded analog audio decoding system: Dolby Pro Logic II. The reason for this was that Dolby wanted to offer a better system for all analogue audio source and digital sources encoded with Dolby Pro Logic or conventional stereo signal .. For although Dolby Digital has made its entry into the thousands of homes via DVD, then it still allowing television broadcasts via both terrestrial and satellite digalt, music on CD, radio broadcasts either conventional stereo signal or stereo signal with encoded Dolby Pro Logic signal. To lessen the difference between these soundtracks and Dolby Digital from DVD so they constructed (along with James Fosgate) an analog audio system with better separation between the channels, stereo surround channels and better suited for multichannel stereo music reproduction. Dolby Pro Logic II is a dramatic improvement of Dolby Pro Logic and much more suited to multichannel music listening and provides noticeably better reproduction of Dolby Pro Logic soundtracks. Since that time, all home amplifiers been equipped with Dolby Pro Logic II decoding.
details

Dolby Pro Logic IIx
Dolby Pro Logic IIx is an upgraded version of Dolby Pro Logic II provides 7.1 or 6.1 reproduction of stereo or 5.1 digital sound. P>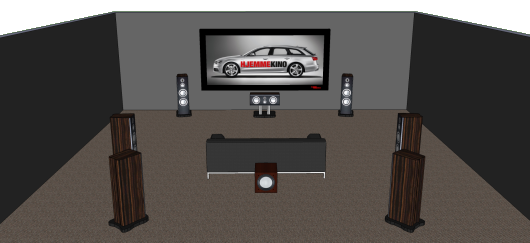 p>
7.1 audio setup
In Unlike other audio systems are not these extra channels encoded along with the rest of the sound. P>


p>

Dolby Pro Logic IIz
Dolby Pro Logic IIx is an upgraded version of Dolby Pro Logic II provides 7.1 or 6.1 reproduction of stereo or 5.1 digital sound. P>