Surround sound is sound that is mixed in typical 5 - 7 channels and it is done to create sound that surrounds the listener 360°.
Surround sound as we know it today, was first introduced in 1976 when Dolby Surround was launched. Until 1982, this technology was reserved cinema use, but in 1982 Dolby developed the Dolby Pro Logic technology which was the home version of surround decoding and in 1987 the first products was released on the market. Since that time a number of surround sound formats been released for home theater use.
It is usually used 5 speakers to achieve surround sound. Two front speakers located on each side of the image (TV / screen) to reproduce what happens in the picture and next, a center speaker to reproduce what happens in the scene and voices, and two rear speakers behind you to reproduce surround effects.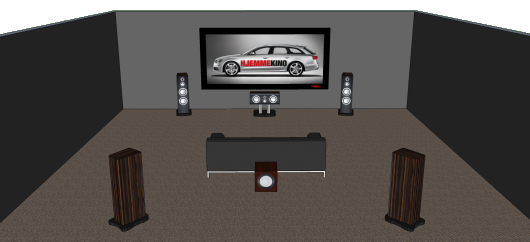 The picture above shows a 5.1 setup. This is the most common surround configuration. Here you have the front speakers, center speaker, surround speakers and a subwoofer for reproducing the deep frequencies.
Which Surround sources exists?
The most common source of surround sound is film, but also television broadcasts, video games and music are often now recorded with surround sound. The various sources can make use of different surround format. Below is an overview of the which surround formats you get through the different sources.
| | |
| --- | --- |
| Source | Surround Formats |
| DVD | Dolby Digital, Dolby Pro Logic, DTS, DTS ES, Dolby Digital EX td> |
| Blu-Ray | Dolby Digital, Dolby Pro Logic, DTS, DTS HD Master Audio, PCM, Dolby Digital Plus, Dolby True HD, DTS HD High resoultion Audio td> |
| Digital terrestrial | Dolby Digital, Dolby Pro Logic td> |
| Streaming | Dolby Digital, Dolby Pro Logic td> |
| Satellite | Dolby Digital, Dolby Pro Logic td> tr> |
| Digital cable TV | Dolby Digital, Dolby Pro Logic td> |
| XBOX 360 / Xbox One | Dolby Digital, Dolby Pro Logic td> |
| Playstation 2/3/4 | Dolby Digital, Dolby Pro Logic td> |