The digital audio system used on DVD is Dolby Digital (AC3). In Europe MPEG Multichannel surround sound juxtaposed with Dolby Digital. P>
MPEG Multichannel is a 5.1 digital surround sound system. It will say that it offers 6 separate audio channels where five of them are fullfrekvente while 1 is a low-frequency bass channel. The 5 fullfrekvente canals are right front, left front, center, right surround and left surround. The advantages of such a channel configuration is that you get a much better direction determination and ambient reproduction than conventional Dolby Pro Logic. p>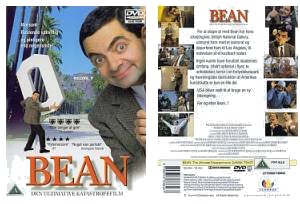 Bean is one of the few films that are released with MPEG Multichannel audio p>
Basically it would only be MPEG audio in Europe on DVD, but MPEG met with great resistance among home theater enthusiasts. MPEG is namely a poorer sound system from Dolby Digital (AC3), to be used in the rest of the world. The first DVD discs that were released from Scanbox, was with MPEG audio. But major criticism has led to future releases will be Dolby Digital. P>
It is mostly only downside with MPEG. Here are some reasons why MPEG met so much resistance. P>
MPEG multichannel sound is not used in some movie theaters in the world.
MPEG multichannel is not a completely discrete system, but uses a backward-compatible matrix which degrades sound quality
No consumer products for MPEG decoding was available. Forbukerprodukter with Dolby Digital Decoding is available from most major manufacturers in Europe. Later it came MPEG-products.
There is no software (movies) recorded with MPEG multichannel. Nearly 200 Laserdisc with Dolby Digital is available. The first DVD release in Europe was with Dolby Digital multichannel audio. Later a few films released with MPEG audio.
Various audio systems on NTSC and PAL will lead to greater development and more expensive equipment for consumers.
Comparison tests between Dolby Digital and MPEG multichannel shows that Dolby Digital is superior MPEG.
The first DVD players on the market in Europe could not render MPEG audio.
Annonse